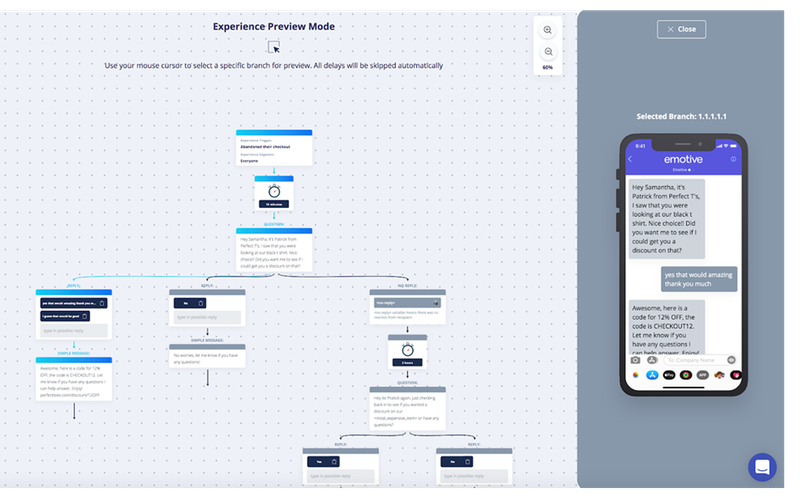 EMOTIVE IS THE PLATFORM ENABLING HUMAN-TO-HUMAN MARKETING AT SCALE.
Emotive solves this problem by enabling e-commerce merchants to quickly build opt-in lists and engage in two-way text message conversations with their customers at scale, all while maintaining compliance with federal regulations. For example, if a customer abandons their cart, a merchant can configure Emotive so that she will receive a text message offering a discount to increase the likelihood of purchase. If the customer has more questions about the products, she can reply and continue to converse with the merchant, all via a single text thread.
Since first meeting CEO Brian Zatulove in mid-2020, we've been incredibly impressed by his tenacity, product vision, and ability to execute. We noticed the same qualities in co-founder Zach Wise and the other members of the Emotive team, giving us the conviction that Emotive is well on its way to building an exceptional product, culture, and company that will emerge as a leader in the fast-growing text marketing space and pioneer a new movement around conversational engagement.
As investors in both software tools and consumer brands, we have a deep appreciation for platforms like Emotive that are forging the next generation of digital experiences, something we've seen in portfolio companies FullStory, Sift, and GlobalWebIndex. We fundamentally believe that conversational experiences will become an important touchpoint between merchants and consumers in the US and Europe, as we've seen in Asia, and Emotive's solution is foundational in enabling these personalized interactions at scale.
The information noted above is representative as of the time noted/February 2021 and has not been updated.